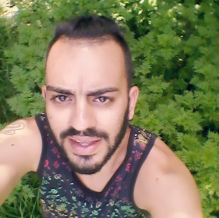 Volunteer since
2016
Speaks
English, Spanish
I understand English very well and I learning every day using books and Internet classes.
About me
I was government worker in the justice sector at the same time studied economy (not finished) then I was a volunteer. I have other curses in computer, bio constructions. In my travels I learned macrame art, recycled crafts, permaculture and cook vegetarian food. I love all animals and all kinds of plants.
Preferred location
I am a artesian, farmer, traveler, earth lover and chef. I'm moving troughs central America slowly. I love see news places and know people.
Skills
I have studied economy and computer but that did't like me. I love shares my skills in macrame, filigrana and more crafts. So I love recycling. I really like work in farms, permaculture and all related to nature. I can make many little constructions.
Additional info
I am not a smoker, I have a drivers license, I am a vegetarian and I have no allergies.
I'm allergic to the mites and lactose