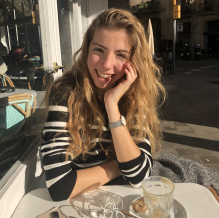 Volunteer since
2019
Speaks
English, German, Spanish
I talk and undertand perfectly english and spanish. I've been 5 years lesrning german. I am also able to undertand a bit of french, italian and portuguese because of the similarity to my language.
About me
I'm from Palma de Mallorca, but now I'm studying medicine in barcelona. I love travelling and living in a different place from home has made me become a more independent person.
My hobbies are doing sport ( I am now in a football team and I played tennis, padel, and volleyball when I was in secondary school).
I love going out with friends, doing excursions. But I also love other plans such as resding or watching movies.
I'm interested in HOVOS because I would love to work at the time by I am living an experience in an other country
Preferred location
I love travelling, and I have selected Europe to volunteer because it's maybe the easiest option for me because of it's proximity. However, i'm also interested in visiting and working in other countries which I have not selected.
Skills
I am studying medicine and I enjoy talking to people and helping them in everything I can.
I am a very active person, i love doing sport, excursions and different types of activities.
I also love learning new things, I speak spanish, catalan, english and a bit of german but i would love to continue with my formation.
Additional info
I am not a smoker, I have a drivers license, I am not a vegetarian and I have no allergies.