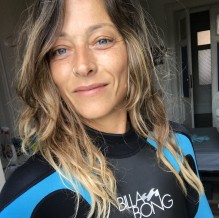 Volunteer since
2019
Speaks
English, Italian, Portuguese
Italian is my mother language and I'm fluent in English. My level of Portuguese is basic: speak and understand easy topic but on my way to get better! ;)
About me
Hi,
I'm Stefania, Italian! Usually people say that i'm friendly and funny person!
I, also, consider myself reliable, positive, adaptable and enthusiastic!
I love nature as well as sports and since I start surfing, it's absolutely my favourite one!
Very important: I like to live as much wild as I can!
Preferred location
Brazil
Skills
I have studied Pharmacy and I practiced as pharmacist in England for 5 years and i have just started a TEFL course to teach English to foreign. I travelled al lot as backpacker and I had work exchange experience, manly, as hostel and tourist support.
Additional info
I am a smoker, I have a drivers license, I am not a vegetarian and I have no allergies.
Payment verified
Email verified
Phone verified
Slow response
Review received
Experienced
Passport verified