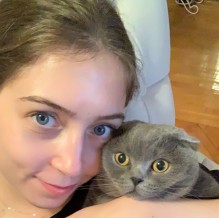 Volunteer since
2019
Speaks
English, French, Turkish
My French is intermediate but I got 7.5/9 on IELTS and studied my high school all in English. Native Turkish speaker.
Current location
Turkey
About me
I have recently graduated from college, studied law and will become a lawyer after my internship. I play tennis, I love nature (not bugs though), books and alternative music. I want to become a volunteer not for cheap travels but to actually help people and hopefully make a little change in someone's life.
Preferred location
I don't have a place in mind.
Skills
I have studied law and can help NGOs on human rights law or women's rights etc. I have taught kids english before so I think I can do that to kids in need as well. I play tennis so I can teach that to beginners. My purpose is to help the disadvantaged people and thank the universe for all it has given me so far by doing so.
Additional info
I am not a smoker, I have a drivers license, I am not a vegetarian and I have no allergies.