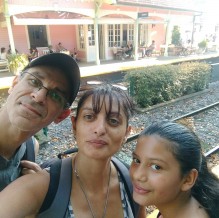 Volunteer since
2019
Speaks
English, Spanish
Estoy aprendiendo Inglés e Italiano , podemos ayudar con el español y practicar con Ud o sus hijos
Current location
Argentina
About me
Somos Sam ,Edu y Gene : Estamos emprendiendo un viaje para conocer nuestros ancestros .Fuimos anfitriones y hemos recibido gente de muchas partes del mundo y ahora nosotros viajaremos. Esperamos poder ayudar a otros en el camino , durante nuestra estancia y compartir todo lo que aprendimos , asi como adquirir nuevos conocimientos. Si necesitas ayuda , pueden contactarnos por tus proyectos y te ayudaremos en todo lo que podamos . Ambos podemos tener mayores y mejores logros.
Preferred location
Voy a viajar a Italia, Roma para realizar intercambio de host por mi ayuda. Tengo un titulo de enfermera y mi pareja es mecánico, ambos tenemos otras habilidades y experiencia para poder ayudar en mantenimiento y construcción en diferentes proyectos. Somos versátiles y predispuestos a aprender cosas nuevas fácilmente. Somos fuertes y nos adaptamos a las necesidades del lugar y el grupo de convivencia humano. Puedes preguntarnos lo que desees para saber si podemos ayudarte. Somos flexibles con las fechas y comprometidos con el trabajo.
Skills
Sam: Tengo un titulo de Enfermera y masoterapeuta. Ademas soy hábil con las tareas manuales. Tengo criterio para organizar y diagramar proyectos , con metas y objetivos claros. He tenido experiencia en trabajos muy diferentes que me han convertido en un trabajador versátil que aprende facilmente, nuevas tareas. Me gustan los retos para mejorar continuamente.
Edu: Soy mecánico desde hace mas de 20 años. Soy hábil con las herramientas y muy bueno para realizar las tareas que me encomiendan. Puedo realizar otras tareas físicas nuevas diferentes a mi profesión también ya sean manuales o de fuerza .Soy un gran colaborador y me gusta ayudar y lograr los objetivos. Me comprometo seriamente en los proyectos laborales
Additional info
I am not a smoker, I have a drivers license, I am not a vegetarian and I have no allergies.
Como de todo .Prefiero comer comida vegetariana pero me adapto de ser necesario.O puedo cocinar mi propia comida.