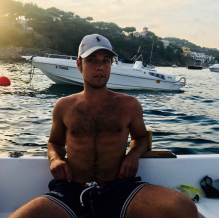 Volunteer since
2019
Speaks
English, Spanish, French
I understand, speek and write english pretty well (toeffle level), i'm not as good at french but I have learned the lenguage for 4 years. And of course my matern lenguage that is Catalan and Spanish.
About me
I'm a kind person, well educated and with really good manners. I will cause any trouble but help in any way I can.
Preferred location
I'm a 21 year old guy from barcelona studying business administration. I just want to travel, see beyond the places i've been (they are not so many), find new adventures and to know new people.
Skills
I'm in my last year of business administration and I don't really know what I will do after that. But i'm sure about something, I want to travel and meet new people. I'm an extrovert and very sociable guy who loves being sourrounded by good people. I love animals and i'm concerned about our enviroment.
Additional info
I am not a smoker, I have a drivers license, I am not a vegetarian and I have no allergies.