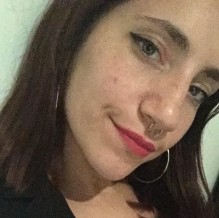 Volunteer since
2018
Speaks
English, Spanish, Portuguese
I speak a little bit of portuguese because I lived in Brazil for 3 months.
Last seen online
2 Weeks ago
About me
I am a person full of energy, I want to travel and to know people from Mexico and other places too. I studied one year of English Translation and I have worked at many places so far. I love animals and art, and love to travel too.
Preferred location
I will travel through Mexico trying to find my next stays not too far away. Even places I´ve not selected interests me, so I invite hosts to contact me if they believe I can help them out.
Skills
I have studied English Translation but I only studied 1 year, so I am willing to do anything needed. I am specially good with animals and art stuff beacuse I enjoy doing it but I can do a lot beside that.
Additional info
I am not a smoker, don't have a drivers license, I am a vegetarian and I have no allergies.
I am not actually a vegetarian but I don´t eat a lot of meat.