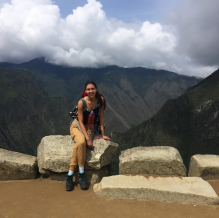 Volunteer since
2017
Speaks
English
I know some Spanish, and some French. My Spanish is improving as I am travelling I can understand some in conversation however in writing I don't comprehend.
Last seen online
10 Months ago
About me
I am currently looking to live abroad for a long time, I have no intentions of returning to Canada any time soon. I am not studying at the time however I aspire to study Spanish to teach English as a second language. I love hiking and being in the outdoors, I love a warm climate. I have had experience working as a child and youth worker, working in a restaraunt for 3 years, and being nanny (au pair).
Preferred location
I am looking for opportunities to work in exchange for board while I am travelling. I am interested in the following places I have selected however all of the countries throughout South America spark interest for me. I look forward to hearing from a host
Skills
I am currently not studying, however I have worked in a restaraunt serving food for 3 years, I have worked as a nanny abroad travelling with a family. I love children and animals. I am not good with technical things like internet support. However I am open to helping with almost anything!
Additional info
I am a smoker, don't have a drivers license, I am not a vegetarian and I have no allergies.
I am type 1 diabetic, I am very cautious and take very good care of my health. As for smoking I can live without.