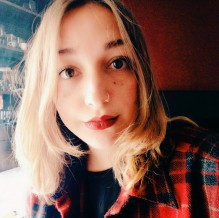 Volunteer since
2017
Speaks
English, French, Italian
Vivo in Italia attualmente da 10 anni, conosco l'inglese, l'ho studiato e lo parlo decentemente. Lo stesso il francese. A capirlo lo capisco bene, a parlarlo faccio un po' difficoltà a causa della mia timidezza. Ma è una cosa passeggera.
Last seen online
2 Months ago
About me
Sono una ragazza solare e carica di vita, essendo nel pieno degli anni miei ho proprio la necessità di raggiungere il nuovo, per me.
Le situazioni nuove non mi spaventano, anzi, mi spingono sempre più a prendermi le mie responsabilità ed a coglierne solo il buono.
Mi piacciono le sfide, mi piace la natura, e sono definitivamente una piccola pellegrina.
Esattamente 5 mesi fa sono tornata da un pellegrinaggio, da lì qualcosa in me si è acceso, sono costantemente alla ricerca di qualcosa che non conosco.
Sono disposta a qualsiasi tipo di attività, chiamatemi e non vi pentirete. Avrete una figlia o una sorella in più che si prenderà cura o di cui potreste prendervi cura.
Preferred location
Per me non è importante dove, ma come.
Sarei contenta di andare in ognuno dei paesi che ho scelto, sono un po' i paesi che ho sempre desiderato vivere appieno.
E sono pronta a tutto.
Skills
Ho studiato turismo a scuola e ho una buona conoscenza dell'inglese e dell'italiano, altrettanto me la cavo con il francese.
Mi piacciono i fiori tantissimo e mi piace prendermi cura di tutto ciò che ritengo necessario.
Sono elastica ed ho un ottimo senso di apprendimento.
Additional info
I am a smoker, don't have a drivers license, I am not a vegetarian and I have allergies.
Sono allergica al burro solamente, ma i dolci li mangio ugualmente. Fumo ma so restare senza, non è una necessità, mi piace farlo in compagnia o con un bicchiere di vino. Sono una persona semplice e facilmente adattabile.