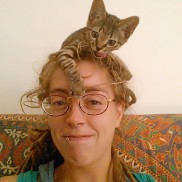 Volunteer since
2015
Speaks
English, Nederlands
I also would like to learn a new language! Like Spanish or Portuguese.
About me
On the picture also Zoe, and me.. Zoe was my roommate when I was in Belgrade, she liked to sleep on my head en scratching her nails in my face when I sleep.
Now I got here in Barcelone, I miss nature, and I only worked on a grape picking farm for one month. I would like to learn more about eco gardening & farming, this month working on this farm woke me up to learn more about this.
Preferred location
Hello, I would like to know more about biological farming and gardning. Now I'm travelling through Spain and would like to stay for a month or two, can you host me and learn me more, please contact me!
Skills
I studied mechatronica (elektrotechnics, mechanical engineering & ict) and human care technology , worked fulltime for a period and now travelling.. Sides to my studies I had a lot of different jobs, working in a restaurant, bike store, administration for simple tasks, and volunteered in a kichen, helped at events.
Additional info
I am not a smoker, I have a drivers license, I am not a vegetarian and I have no allergies.