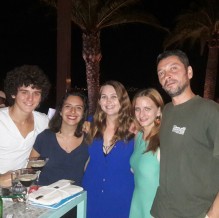 Volunteer since
2017
Speaks
English, Spanish, French
I can speak french with some difficulty and I can understand if the speaker has the patience to speak slow and maybe repeat a word or two.
Last seen online
11 Months ago
About me
I have recently finished school in Argentina and instead of starting university right away I took this year to travel and gain meaningful experience abroad while seeing what's outside of my country. I consider myself very outgoing, friendly and I try my best to make people laugh. I enjoy playing basketball, as well as other team sports even though Im no professional. I also play the guitar and the piano whenever I have the chance.
Preferred location
I am traveling in Europe especifically in the countries I listed since I have already covered the rest of it rather extensively. I prefer a more urban area but anything is welcome.
Skills
I have worked in hostels for the past 3 months as I travelled Europe, I have good knowledge of the dynamics of one and have acquired experience when it comes to painting and manual work. I have worked both as a handyman and in the reception in Montenegro and Greece, so any type of help required I will gladly give my best to help out
Additional info
I am not a smoker, don't have a drivers license, I am not a vegetarian and I have no allergies.