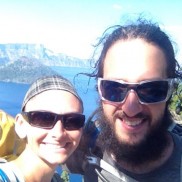 Volunteer since
2015
Speaks
Spanish
Ryan took 6 years of Spanish in school and we both lived in Mexico for 4 months.
About me
We are laid back, hard working and community minded. We want to spend time with and learn something from our hosts. We are very interested in organic gardening, eco building, alternative power/water sources and animal care. We practice meditation/yoga and would love to share that with our hosts.
Preferred location
We are an American couple (he's 29 she's 32) who will be looking for our little slice of heaven (probably somewhere in western North Carolina) with our (very well behaved) dog. We would like to volunteer on some local farms to get to know the area before we buy land. We quit our 9-5 jobs so we have a very open schedule. We are currently wwoofing in Europe/Africa and will be available in America starting around fall 2016.

Skills
We built ourselves an odd grid log cabin so have some building experience. We have lived/wwoofed with animals and LOVE to spend time in the garden. We have also worked with bees.
Additional info
I am not a smoker, I have a drivers license, I am not a vegetarian and I have no allergies.
We are traveling with our amazing dog. She is good with all other animals (cats, dogs, chickens, goats, horses...).