About the workproject
We need 10 volunteers
The International Humanity Foundation Thailand has been working with vulnerable and displaced children in Thailand since 1984. Based in the City of Chiang Rai in North Thailand it is close to the borders of both Myanmar and Laos, IHF manages a children's home, child education and community development programs.
Our Thailand centre needs some renovation having housed 28 children up until early 2017. Our children had grown-up together and having now graduated them all, we are preparing the centre for the next generation of children.
We are looking for Volunteers with construction and building trade skills who are interested in staying at our center for an extended period. You will work with our Center Directors and will be willing to lead small to medium sized repair projects, training other volunteers as necessary.

Benefits
In addition to making a notable difference in the lives of children, you will have plenty of time to explore the natural beauty of Indonesia.
Make a difference in the lives of impoverished children
Enhance your CV with international experience
Immerse yourself in Thai culture
Explore Chiang Rai and its surrounding National Parks
Gain international experience
Join a global network of IHF volunteers and alumni, make life-long friendships
Leave a Legacy by adding value to our center with your knowledge, skills and expertise help us to creating something that will give access to education to a new generation of children for the next decade
Program Cost
Accommodation and meals, prepared by a local member of staff, are included in this program. Interns will also be provided a small living stipend to cover local expenses.

Initial visa fees are the responsibility of the volunteer, however subsequent visa renewal fees will be covered by IHF.

Note: due to the nature of our work with children, should you application be accepted we do require a criminal background check which is less than 1 year old.
My project blog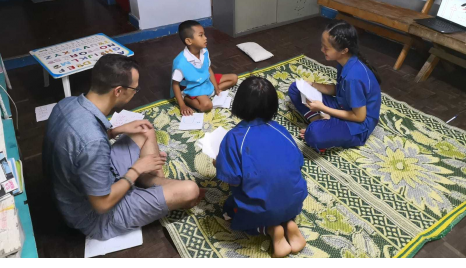 Apply for the IHF Thailand Children's Home Program
November 25, 2018
Location The city of Chiang Rai is located inside the Golden Triangle, the meeting point of the borders of Laos, Myanmar, and Thailand, an ancient center of trade and rich cultural history. In a mountainous region filled with lush dense jungles, and breathtaking waterfalls you will have the exclusive opportunity to work and live in this diverse and captivating region. Chiang Rai is unique as its population is made up of people from various ethnic backgrounds and is heavily influenced by the culture of the remote hill tribes who populate the province. Overview IHF has been operating it's Center in Chiang Rai, Thailand since 2004 and has been working in some capacity with the Hill Tribes of Northern Thailand since 1984, providing providing a safe home for children of these marginalised stateless communities and enabling them to access free high quality education and medical care. Volunteers who sign up to donate their time at our IHF Thailand Center make a very real impact during their stay participating in any or all of the following local tasks:Provide hands on help with the Center's day-to-day operationsParticipate in a cultural exchange, organizing special games and activities with our childrenHelp supplement our children's education by leading our evening English studiesExperience a unique opportunity to visit with and learn about the hill tribe communities our children are fromVolunteers will lend a hand helping out with repair and maintenance tasks around the center, ensuring that it remains a home for our family of volunteers, staff and children who live thereTrain in the core components of an international organization (including management skills, policy and procedures, finance, fundraising, media & PR, donor relations, and recruitment)Be responsible for the management, design and implementation of community led projects linked to your academic and or professional skills and experienceManage local volunteers and shape their experience at our IHF Thailand Center The program requires requires a minimum time commitment of 4 months, though we encourage volunteers to stay for up to 1 year or more.BenefitsIn addition to making a notable difference in the lives of the children we serve, you will also have access to the following benefits: Certificate of program completionLetter of recommendation upon request Acquire leadership and management capacities that will enable you to lead in the ever-changing global environmentGain practical experience in an NGO environment Interact with locals, experience a different culture, and build cultural awarenessJoin a global network of IHF volunteers and alumniBuild a global network with people from diverse professional and cultural backgroundsEligibility IHF is looking for individuals who can commit to the minimum four month program with a strong interest in global leadership. At-Home Volunteers- Not sure if you are ready to travel and live as a volunteer at one of our centers? No problem! IHF is searching for At-Home Volunteers to support our mission remotely by committing 2-3 hours per week from their homes around the world. An At-Home volunteer should have access to a dependable computer, wifi connection, and experience with Google Suites applications is a plus.Essential RequirementsVolunteers accepted to this program will have: Confidence using the English language (both spoken and written)A passion for international development with a particular emphasis on universal educationProficiency in Google Suite applications The means to live in country at one of our centers for the duration of your program An open-mind, with an interest in learning not just about the community, but from the communityHave a commitment to our Core ValuesPreferable Requirements Previous international travel and volunteer experience is a plus Career development goals aligned with IHF's missionProgram CostAccommodation and meals, prepared by a local member of staff, are included in this program. Additionally, you are free to eat outside of the center at your own expense.Not included are your travel costs to and from our IHF Center, immunizations, travel insurance, visa fees, and any spending money you wish to bring with you.Note Due to the nature of our work with children, should your application be accepted we do require a clean criminal background check which is less than 1 year old. DeadlineIHF accepts applicants on a rolling basis | Apply HereFor any other enquiries contact our Volunteer Team | HereFor more information | www.ihfonline.org