Completion of The Wall !!!
February 8, 2019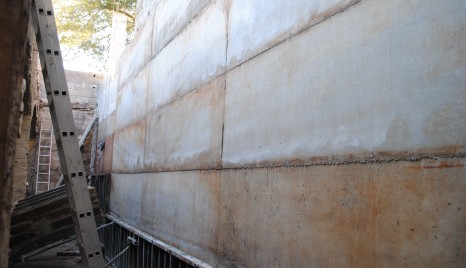 It's done, ready, completed, no accidents, nice work, no mistakes, in short: we are SUPER happy.

It took well over a month to make this huge wall of 13 x 5 meter with a thickness of 10-15 cm. A lot of concrete as well: about 30 mixers on the Manitou loader of 300 liter each. And about 100 bags of 25 kg cement, many bags of fibers and a liquid to make the concrete water resistant. And not to forget many man hours of work we put in it.

As mentioned already we made no real errors, apart from 1 time perhaps when we - again - underestimated the force of concrete. Especially when you compact it with a vibrator the pressure at the bottom is huge and it will try to find the weakest link and release the pressure. The second layer of concrete was being pushed out a bit. At that specific spot we could only place the steel supporting posts in a not ideal angle. Solution: we pushed it back with one of the loaders and left it this way overnight; it worked perfectly.

Why this wall, was it necessary ?
Maybe it was not necessary, but the existing backside wall of the building was very bad, had a lot of cracks and water was coming through the wall. For sure the structure is now much more solid and prepared for the extensions of main three arches of the building.

Before that I have to make 2 mini arches; between room 1 and 2 and the other one between 2 and 3. This is needed to support the extensions of the main arches to rest on. I still have to figure out / calculate how thick the concrete for this must be and what type and thickness of reinforcement steel I need to put in. But it's a great feeling that we are moving to the next phase of the mega project.

Thanks guys and girls !
So thank you Ondrej, Mark II, Kylee and Ans for making the incredible happen !

Next week I will write about bird houses again, we have placed many of them.

Silliness of the week...
Did you know that if you connect your solar panels to the grid without a license you can get a fine for this twice as high as nuclear power plants can get maximum for leaking radio active material ? The fine for this is just 30 million Euros, so the fine for connecting to the grid with solar panels without license can cost you a whacking 60 million Euros. The good news here is that if you pay this fine within 2 weeks they accept half of the full amount (this rule accounts for all fines, whether it's a parking ticket or a tax fine or whatever fine). Oeps... this law only applies in Spain. Spain was also the only country which by decree of the King himself introduced the sun-tax in 2015. The whole world was against it and in October this year they withdrew this law - also by decree of the King himself; you wonder what the value is of the Kings approvals...... ;).