About the workproject
We need 2 volunteers
We own a former coal mine estate on the Spanish island Mallorca. It's a 3 hectare sized domain with a vineyard, an orange garden, 4 houses, a large workshop etc.
We own a lot of machines to assist us with the work, but there is always more help needed. If you have specific skills of interests like: electrician, mechanic, building / construction, knowledge about growing plants and trees or any other skill you could help us out here in return for accommodation in one of our houses and we give you a weekly fee so you can buy your own food.
Take a look at our blog which we write on regularly. We take on all kinds of projects, small or large, easy and complex. All volunteers who came here have had a super great time !
My project blog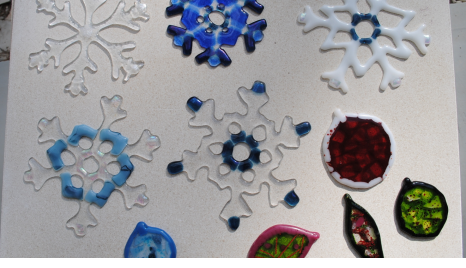 Glass art studio of Ans finally starting
October 9, 2020
I have mentioned Ans her glass art studio a few times briefly in the previous blog posts, but there was little to tell as it had not yet started. But this has changed and Ans is doing her first experiments with glass with good result. A quick update:Ans has always been fascinated by glassA few years back she followed a course in Sweden where she learned how to make glass art using a special glass fusion oven, als called a kiln; it's also called 'glass fusion art', which means melting different pieces of glass using the special oven and fuse the glass togetherLast year the Swedish artist who gave Ans her course gave Ans a tip that she could buy the whole glass art inventory of another glass fusion artist who stopped doing this after her husband passed away.We bought everything, which arrived a few months later on Mallorca, packed on 3 pallets. It's still partly unpacked, but Ans has already started to test how the oven works and has already produced her first Christmas decorationsGlass art studio as good as readyThe electricity connection was the last necessity in order to start and 380V is required to power the kiln. Two weeks ago this has finally been completed. There are many other things which need to be done and the bulk of the glass is still packed in wooden crates. A cabinet is needed where the glass sheets can be stored vertically in an organized way. I am going to make one custom made according to the instructions of Ans. The wood has already been bought, and the coming week this will be made. What is also needed are a few work benches, one for all the tools and the main work bench where Ans can design her art.However... the studio is still completely open on the front end, there are no doors. The large double opening doors are high on the agenda and a design for it has already been created, but the actual doors are still to be made. Maybe a volunteer with carpentry experience is going to assist us with this; he is currently on Ibiza and is hopefully coming here soon. How does the whole process work ?First you make a design. Then you make the pieces of glass which you need and either lay it flat on a special heat resistant tray or you lay it on a mold of gypsum, so the glass can sink into this shape; example: if you want to make a plate or a bowl you lay the glass on top of this mold. You can place several pieces of glass on top of each other, which fuse together if the settings for the oven are set correctly.Kiln: the most important toolThe kiln is not just an oven you can turn on or off. Through a simple digital entry system you can set multiple stages with different durations and different temperatures. If the temperature is being increased too quickly the glass can break and/or the fusion can go wrong because of a too high or too low temperature. So the oven is heated up slowly toward the melting temperature and then you can create short peaks of higher temperatures. Finally the oven is being cooled off slowly in order again to prevent the breaking of the glass. A complete run can take up to 24 hours and more than 10 stages can be set. First artAns has made her first glass objects and was inspired by Christmas. The photos will speak for itself.