About arches
April 19, 2019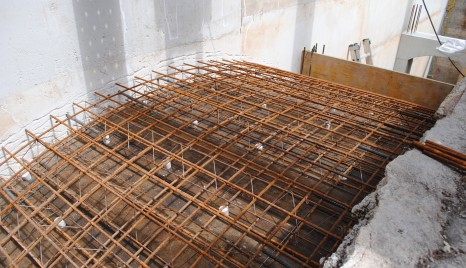 Arches appeared as early as 2000 years BC in Mesopotamia. The Romans first used it systematically for building constructions and aqueducts. There are many types of arches, the main types are Roman and Gothic arches. The advantage of an arch is that it can span wide distances without any other support than the 2 pillars of the arches. The strength of it does not come from steel or cement in the first place: it's the shape of it which makes it strong. Where gravity is negative for a horizontal and flat span - making it weak-, gravity is what holds together an arch.

A few years back I bought an old Dutch book about construction with the title 'Bouwkunde' (= 'Construction), which was used as a study book for higher technical educations. It was published around 1910 and although well over a century old the basic principles of construction still apply. It's a great book and it also contains over 50 pages about arches, the different types, how to make forms etc. I have included a few screenshots of the book.

Last Monday we completed the construction of the first extension of the main arches of the coal storage building. It's still curing and we want to remove the forms no sooner than after 2 weeks of curing. The weather is perfect right now: cloudy, an occasional spell of rain and not to warm; slow curing concrete is stronger than fast curing concrete. I do notice a few cracks on it, but these are just surface cracks (see photo). I was afraid though that the cracks were created due to the expansion of the wooden forms and I am still not completely relaxed about this, although Folkert assured me that this is not the case. Even if it would be the case the strength of the arch would not really be affected (look at the amount of steel inside the concrete).

This is the first of 3 extensions we have to make. Next week we will remove the forms and build it up in the adjacent room. The third and last one will be a bit more complex as the old arch is very bad. The current idea is to not remove this whole arch, but fix it structurally through concrete injection in the cracks.

Even though it will take more than 1 month to have all 3 arches done, I am already thinking about the next phase of the project, which is making the floors on the first floor above the arches. I have been changing my mind from concrete beams with a wooden floor on top to a complete concrete floor many times. Important metrics for me are the price and the time involved to make it. I am now quite sure I will go for a complete concrete floor. Starting with precast concrete t-beams - 65 cm apart- and in between prefabricated hollow concrete blocks - Dutch 'broodjes' , English 'infill blocks' I believe). And then a concrete topping of at least 5 cm thick with some steel mesh in it. This is also making it less urgent to immediately place the roof, as it's not a wooden floor so rain would not create an issue. Working on the roof structure from the inside will also much more easier with a flat floor.

Other status updates
Vineyard: looking better than ever, already sprayed twice against mildew, Ans is keeping the weeds under control almost daily. If we are able to fight the mildew successfully we could have a yield of 500+ kilo, good for 450 bottles.

Lake: it's really becoming a big crater now. Next week we will maybe spend another day in there. Next year the lake must be ready
Cottage garden: walls have all been finished and I will start placing the flagstones, which will be the last job before preparing the lawn, adding a layer of good soil and sowing the wiregrass seeds.
Workshop: big cleanup and reorganisation; the canoe under construction has been moved to the back to create more space for the welding of the beams for the coal storage building
Pump improvements: water is now coming in through the highest water deposit and from there it automatically overflows to the lower deposit, surpassing the need of a transport pump from the lower tank to the higher tank and thus saving a lot of electricity. At the Bricomart I bought a complete pump control box including a fuse, a water level relay, a overload relay and indicator leds. I bought it first of all because the price was 50% off, which is hard for me to resist. When I tried to install it, it proved to be suitable for water level control by probes or sensors, 3 in total. Our level control in the water deposits is done by floater switches, which signalling work exactly opposite: when the high-water level has been reached the sensor will make contact, while a float which will disconnect the power to the pump. Electricity is not my cup of thee and I got a headache from challenging my brains to find the solution. I now understand how it works and why there are 3 sensors in the water: the 'common' , the low water and the high water sensor. The last 2 try to establish a current through the water with the common which is always placed below the low water minimum level. To keep my system as much as possible the same as it is now, I will tomorrow buy a relay which will close a circuit while opening the circuit of the float switches. See also photos.

Pump solar panels: we now have the idea to cover the whole south side of the roof of the garage with solar panels (12 x 280W) to solely feed the electricity for the pump in the mine (1100W, pumping many hours per day in the hot season). It will lower the monthly electricity bill by around €100 - while the costs of the solar panels, fixing materials and inverter costs around €2300.
Orange garden: to our surprise there are not a lot of trees flowering and the ones that do flower have very few flowers. Everywhere orange trees are now blossoming crazy, but not here. No idea why not.
Ficus Benjamin dead: we had a super healthy Ficus Benjamin in front of the terrace of our house. Suddenly it started to drop leaves and now the whole tree seems to die, apart from one branch which came up from a root. We used to call it our baby as it was doing so well with bright green leaves and growing the whole year around. We're puzzled what killed it.

Borre escaping: one afternoon this week we suddenly realized that Borre was away for already a few hours. Ans whistled a few time, but Borre did not appear. We started a search immediately. First went to our Danish neighbor Bryan where he had been spotted, but Borre had went away a while back. Ans went further down the road, following her daily walk with Borre in reverse direction. I followed Ans 10 minutes later. I found Borre near the neighbor of Bryan at Richard & Patties place. That evening we went out for a dinner in Inca with Willem and when we came back around 11 PM Borre was gone again. I got in the car and drove to Richard & Patty. Everything was dark already but soon Richard came out in his pajamas. He had called me several times that evening and although I had my phone with me there had been no calls. Borre was there the whole evening and in fact should be sleeping on the sofa in their living room. But when Richard checked it he was not there anymore. Ans called me that Borre had just returned. we needed to do something about it and prevent Borre to get out so easy. So, the next day we removed the old wall and remains of what had once been a nice fence completely. I did some shopping for a new fence but it proved not to be easy to get what I was after. The next day Borre was again at Richards place. We now realized that something needed to be done immediately, so I asked our volunteer Ondrej to cut some rebar in pieces of 2 meter while I went to Inca to buy a few rolls of wire fence. 4:30 PM we started and 6:30 PM we completed the temporary fence, see photo attached.