Kedarnath Dham with Vasuki Tal Trek | Trekveda
March 21, 2020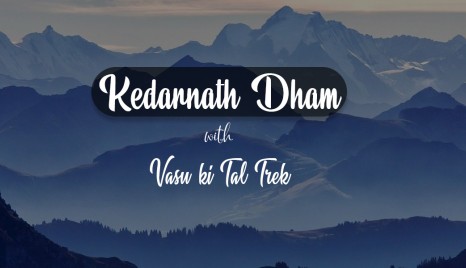 Overview
Kedarnath Dham with Vasuki Tal is a combined trek with an amazing experience. Kedarnath is at an altitude of 3584 m. A magnificent temple was built by the Pandavas at the base of Kedarnath peak's southeastern face, and millions of pilgrims now come here to offer their prayers to Lord Shiva. The trek starts from Gaurikund, Where there is a hot water Sulphur Spring. While approaching Kedarnath, we pass through stately forests and come across some beautiful waterfalls. Kedarnath to Vasuki Tal is a continuous ascent, and a great trek. The view of Chaukhamba Peaks and Mandakini Valley is a wonderful from here.
Altitude
The altitude of Kedarnath trek is 11,278 Ft. and the altitude of Vasuki Tal is 14,200 Ft. The trek will open up the glimpse of beautiful mountains around. The important thing that one has to keep in mind is to take the proper medication with them at the higher altitude. Though we provide every possible thing but it is always better to keep your medicines. Hydration is the most important part when you trek to the higher altitude, so keep your body hydrated while trekking.
Difficulty Level
KedarnathDham with Vasuki Tal can be done easily; the trek is favorable to all ages. However, Pathways have steeps with boulders; trekker should know little techniques and walk carefully. Then one can do it easily.
Is it suitable for children's?
Kids between 10 to 17 ages can trek to Kedarnath Dham with Vasuki Tal.
Is it a good option for the first time trekkers /or families?
This Himalayan trek is graded as easy to Moderate trek so it can be chosen to take the family.
Season
The best time to visit Kedarnath Dham with Vasuki Tal trek is May to June and September to October. The trek to this admirable destination can be planned between these months as the destination glows the most. The landscape is beyond imagination; the gigantic mountains wrapped with snow looks mesmerizing. Enriched by the glory of nature Trekking in Uttarakhand can be the best experience in all seasons.
Average temperature
The average temperature is around 17°C. There are occasional rains and the temperature drops till 12°C. The trek is accessible for the trekkers; pilgrims visit Kedarnath during monsoons as well. The nights will get colder. The higher the altitude you gain, the colder it gets.
Trek Itinerary : Kedarnath Dham with Vasuki Tal Trek
Day 1 :
Haridwar to Guptkashi
Altitude :
4,327 Ft.
Time Taken :
6 to 7 hrs
The morning after breakfast, drive from Haridwar to Rishikesh to Guptkashi via Rudraprayag & Devprayag. You can see the beautiful river Mandakini at Tilwara. The river comes from Kedarnath, drive alongside the river to reach Guptakashi then Sitapur, visit Ardh Narishwar Temple in Guptakashi. Later stay in Guptakashi.
Day 2 :
Guptkashi to Gaurikund to Kedarnath
Altitude :
4,327 Ft. to 6,502 Ft. to 11,755 Ft.
On this day early in the mosrning post breakfast leave for Guarikund, and from there the trek to Kedarkantha will start. Kedarnath is a shrine of lord Shiva. In the evening visit the temple for Aarti ceremony. Kedarnath trek plays a big role in Hindu mythology. Kedarnath trek is considered to be most beautiful & divine Himalayan trek.
Day 3 :
Kedarnath to Vasuki Tal to Kedarnath.
Altitude:
11,755 Ft. to 16,010 Ft.
On this day trek to Vasuki Tal from Kedarnath in the morning after visiting the Kedarnath Temple. The trek is of 8 Km till Vasuki Tal so get ready for all the adventure and to look after the beauty of it. After exploring the area trek back to Kedarnath. Dinner and overnight at Kedarnath.
Day 4 :
Kedarnath to Gaurikund to Rudraprayag.
Altitude:
11,755 Ft. to 6,502 Ft. to 2,936 Ft.
On this day you trek to Gaurikund from Kedarnath, it is around 5 Km trek till Gaurikund and then it will be a drive from Gaurikund to Rudraprayag. As this is going to be your last day of trek so collect all the memories and witness the beauty thoroughly. Dinner and overnight in Rudraprayag.
Day 5 :
Rudraprayag to Haridwar
Time Taken :
6 to 7 hrs
On this day drive back to Haridwar from Rudraprayag after breakfast. On arrival at Haridwar you can depart from there as you want by Train by bus. .