We have a waterfall? How did we not know this?
October 17, 2017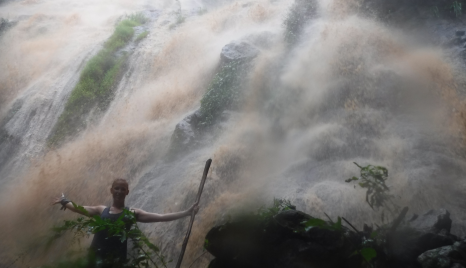 After a pretty heavy week of work we had some friends over for lunch, as you do when you're volunteering on a finca in the middle of nowhere. These guys came to talk to us about potential solar projects and wind power installations around the finca. Andy one of our colleagues brought with him a drone with some pretty special camera equipment attached to it. The idea was to fly the drone over the farm to see what exactly it looks like from above and to show what progress we have made since starting the project over the next year. Whilst zooming in and out of our teek plantations he discovered what looked to be a pretty impressive waterfall!!! A waterfall? we have a waterfall? Surely someone knew about this? Obviously we were pretty excited as you can imagine and decided to take a mosey on down to see exactly how big it was.
Waterfall trek day 1 -
We decided to follow the creek from one of the roads in the finca to see if it lead us to it so armed with our map, wellies and camera we set out on a little jaunt. We wandered down the creek under a few barbed wire fences and down a few slippery slopes, swinging from vine to vine in a style that would have made George of the Jungle proud. As the sound of water increased from that of a babbling brook to a thunderous avalanche we jumped over a couple more rocks to be amazed at the view from a clearing at the end of the finca. It was like a scene from a movie!!! The waterfall was bigger than any of us had imagined and the view was even better. Furious flowing white water off the edge of a cliff, overlooking luscious green landscapes and with howler monkeys screaming in the background, how could we not be stunned.
The owner of the Finca, Heimo is a little scared of heights and wasn't too impressed with us all leaning over the edge to see how big it was (at a rough guess I'd say around 250 feet). So we promised him that we would leave it and take another look with the drone…That was until he left the finca the next day and curiosity took over us.
Waterfall trek day 2 –
Armed with homemade banana bread courtesy of our very own pasty chef – Sophie from Berlin we headed out. Only slightly excited and armed with machetes to cut down any wayward branches (possibly not the best combination) we passed the entrance to the waterfall on day one and crossed the creek in search of a better route to the bottom. We slipped and slid our way down the side of some pastures that mountain goats would have struggled with and came across a dried up creek. We walked for about 2-3 hours along the narrow creek chopping down fallen trees and vines along the way until we could hear thundering water. The excitement took over and the Manager of the Finca Nick, got a bit excited and took off, we heard him shout, (no idea what and I'm not sure how over the noise of the waterfall) but as we caught up to him we weren't disappointed at having walked for 3 hours to get there. We couldn't believe that this has been here all this time and we have only just discovered it. It is awe-inspiring, had it not been for the drone we still wouldn't know it was there.
The walk back was a little more interesting, I thought it would be a good idea to go the most direct route, up the side of the waterfall. It took us over 4 hours and we found ourselves impersonating mountain goats again and holding on to tree roots and mossy rocks for dear life. But we made it out after a few hairy moments, some bee stings and a whole load of mosquito bites and thorns in various limbs.

What an amazing adventure and here in our own back yard, we may never be coming home that way again and I'm not sure anyone will be asking me for directions anytime soon either. Yes it was tough, but how good is it to be able to say that we are 4 of only, I dare say, a handful of people in the world to have seen this particular waterfall, and what a beauty it is.
Who knows maybe this time next month we will be abseiling off it, although I have no idea how we will get back up…open to suggestions.
Until next time, from the intrepid waterfall explorers…pura vida.