TAKE A TRIP DOWN MEMORY LANE WITH ZAZA
May 14, 2020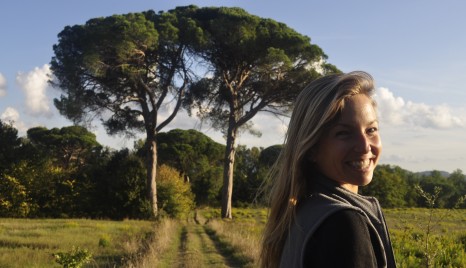 Introducing Zaza, one of the most active volunteers on Hovos having spent a couple of years volunteering in Europe and Thailand.
We're delighted that she has put her experiences to paper so we can all be inspired!
This is the first part of several memories she will share. So grab a cuppa and settle in for a trip down her memory lane!


THE PERMACULTURE FARM. CONSCIOUS EARTH, CARTAMA, SPAIN
It was pure fate that brought us to Conscious Earth. It just so happened that we bought a campervan nearby in Cartama, a charming town near Malaga in the south of Spain. From there we literally searched for permaculture volunteering projects that were close by and voila! Conscious Earth was just a few kilometres away.
Funnily enough, we nearly didn't make it to Conscious Earth! Located up in the Andalusian mountains, on gravel roads, our newly purchased campervan, 'Hippo' struggled with the journey. We were new to driving such a large vehicle (and a very old one at that!), and at one point on a very steep downward slope, the breaks gave out!!! As we started to skid out of control, I noticed the fatal precipice waiting for us on one side of the road and thought that was it! It was going to end before it had even started!!! But luckily with some skill on Nahuel's part, he managed to gain control by shifting down to first gear and using the handbrake! Needless to say, I walked the rest of the way!
I was unsure of what to expect and a little nervous. My nerves were of course compounded by the hair-raising ride we had just had getting there! But I was immediately put at ease when I met the phenomenal Sam and Stacey, along with their son, Beau and his granny, Val, not to mention their beautiful dogs, George and Macey.
They are a fabulous, welcoming, warm family from England who moved to Spain some years before. And what they have done with their place was breath-taking! From the earthbag house they built for Val that has a living roof, to the beautiful trees they planted dedicated to loved ones that have passed away with their names on handmade painted stones to the flourishing food forest bursting with fruit, edible flowers and a mountain of herbs. You have to see it to believe it!
The first thing I remember was the yellow, parched, arid landscape all along our journey up the mountains. But when we arrived at Conscious Earth, the landscape immediately changed, it was green and lush, like we had stepped into a different world.
We were showered with cups of tea and cakes in true English style as we got to know our hosts. I felt immediately at peace, surrounded by an abundance of nature as I breathed in the fresh, warm air and instantly felt comfortable with the family. I knew we had come to the right place.
We initially stayed in a bell tent, right at the edge of their food forest. Unfortunately, there was a heavy storm for several days and so as a consequence, they kindly proposed we stay at a villa they usually rent out, a 10-minute walk away which would be more comfortable (and drier!).
Even when the storm had passed, we continued to live in the gorgeous villa. We woke up every morning and had breakfast outside marvelling at the view to die for; a sea of mountains lay before us as far as the eye could see as nature swirled all around us. Total tranquillity.
We worked the land alongside Stacey, who inspired us continuously with his incredible life story, one in which he had transitioned from a construction worker in London to an organic farmer in Spain, and he couldn't have been happier with his choice. His trade served him immensely well as he was able to swap traditional construction to alterative, sustainable construction. We even had the opportunity to help build an earthbag extension to their home. Boy oh boy was that hard physical work, but really enjoyable and extremely satisfying. He also seemed to have a natural knack for all things farming. He just had an inherent ability to almost listen to the land, he instinctively knew where to plant things and could see the finished product in his mind. It was like he had lived on a farm his whole life, his knowledge and feel for the rural life was so strong.
Sam made everything beautiful. Her background in antique restoration, along with her artistic ability and creative nature meant she was able to transform the ruins they initially bought in Spain into the stunning masterpiece it is today. Not to mention all the work she put into the villa up the road where we were staying. I loved watching her work. She could convert an old, bland, cheap wardrobe into a million bucks in an hour. And she taught me how. This was much more than I ever expected from a volunteering experience.
And as a team they were unstoppable! They were so resourceful and could really think outside the box. I was particularly in admiration of their microgreens business that is a big hit in the local community. A great way to get to know their neighbours and share their delicious home grown produce.
I marvelled at how Sam and Stacey, both city born and bred, had adapted so well to their rural life. And it was clear how much they loved it. It really got me thinking about my own urban life and how it might be time to revise my future plans… Maybe I could do this someday too…
I really looked forward to our volunteering work which was primarily on the land. Alongside fellow volunteers, the incredible Joe, funny Carol and latterly inspirational Ian, we learnt how to make vegetable patches from scratch, got used to working with goats' poo (!), created terraces out of steep slopes and became experts on mulching! On average we worked 5-6 hours a day, 5 days a week, with lunch in the middle and a couple of tea breaks. We ate lunch altogether like a big family and I really appreciated their adaptability as I was a vegetarian. Whenever they could they included their own fruit and vegetables and often they invited us to stay for dinner, despite the fact they had already provided us with our own food supplies back at the villa. I loved these times. It was like life was standing still as we ate on their delightful terrace under the stars. Amazing food and most importantly amazing company. We spoke about everything and shared our life stories. We connected on another level. I remember sometimes after a long dinner we would walk back to our villa with only the light of the moon guiding us home and it felt like that was all we needed in life. For the first time for as long as I could remember, I was present.
Unsurprisingly we got to know them very well and our relationship as host and volunteer became true friendship. We extended our stay at Conscious Earth several times and ended up there for over 3 months in total! And we would have stayed longer had it not been for the fact that we had literally just bought Hippo, and we hadn't travelled anywhere in him. We had wild plans to travel the Mediterranean and to make it to the 'stiletto heel' of Italy by the end of the summer and June was fast upon us. So it was with an immensely heavy heart, we finally (and very cautiously!) made our way down the mountain and back into reality and started our journey to Portugal, leaving behind our little bubble of paradise and our new family.
…And true to form, two years on, I am still in touch with this amazing family and my dream to live just like them has not diminished. Talk about a life changing experience.