JOHANNA IS HOST OF THE MONTH DECEMBER
December 5, 2019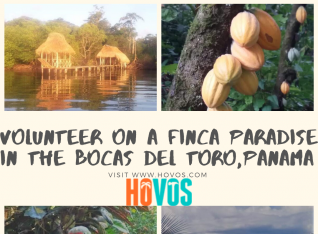 ● Tell us a little about your location...
Panama…Bocas del Toro…Isla San Cristobal…Finca paradise found!
● What is the inspiration behind your project?
To have a self-sustainable and free life far away from the material-oriented world and to increase the power of control.
11 years ago, I bought 50 hectares of jungle and swamp. I built a house with my own timber, dried the swamp and now it's a beautiful edible garden. I do not touch the rainforest but enjoy the monkeys and parrots passing by and the other incredibly rich fauna and flora.
I live in a place with the rainforest right behind and the sea in front. My inspiration is...nature. I learn what is really important in life.
I grow my own food and....I make my own chocolate. Eternal Caribbean summer and no postal address.
● What is the main highlight of your project?
There are lots of main highlights…
Freedom!
I do things according to my own responsibility
Learning to survive in, and also love, this beautiful and challenging environment.
● Can you tell us about a positive volunteering experience you have had?
People who came here loved this kind of life. People with creative ideas who realized their ideas. Smart hard-working people who were proud of what they created. Some come again.
● What do you look for in a volunteer?
This is not Disneyland. Be physically well trained and healthy. And please...this is not a place for neurotic and egoistic people. We depend on each other. We have to rely on each other. There is no supermarket or hospital around the corner. What is very important is there are no problems…just challenges. And solutions…
● What jobs do you have in store for volunteers?
Everything associated with life on a finca!

-Work in the cacao plantation
-Machete work
-Maintain jungle trails
-Help with construction (the next project is a langosta farm in my bay)
-Help with the internet
● In exchange for work, what do you offer volunteers?
Guesthouse and three meals a day. And a unique environment.

● Are you currently looking for volunteers?
For people that are bold and cautious while carrying out tasks...yes.
And if people believe that they will succeed...yes.
● Anything else you would like to add?
After 11 years of living here I am still amazed every day with the beauty that surrounds me. I learnt from my indigenous friends to be grateful every day for being healthy and strong and ....alive.