ANDY IS HOST OF THE MONTH FEBRUARY
February 19, 2020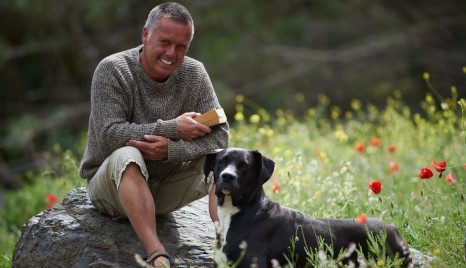 We are thrilled to have Andy as our Host of the Month this February!
We can't help but feel the sunshine, happiness and big smiles when we look at his project and the beautiful photos of his property!

Located in one of the most stunning parts of Spain, volunteering here in the summer would be a dream come true!
If you are interested in volunteering in a naturist environment, then look no further. This summertime you will have the time of your life with Andy and his wonderful guests!
Read on...
• Tell us a little about your location
Finca Natura is in a beautiful countryside location enjoying over 70 acres of private land dotted with olive, orange & lemon trees, located just 30 mins from the Costa del Sol coast and the historic city of Malaga.
• What is the inspiration behind your project?
My project began over 6 years ago to help people of all colours and sizes remove the stigma attached to enjoying the sun without clothing. "Freedom without judgement".
• What is the main highlight of your project?
Enjoying seeing the guests expectations of their holiday be surpassed with the help of volunteers with contagious smiles.
• Can you tell us about a positive volunteering experience you have had?
The list is too long to write about all our wonderful volunteers, however each volunteer is unique in skill sets and experience. We had 2 volunteers from Portugal that were studying art. They both painted beautiful scenes on our whitewashed outside walls which are complimented on daily by guests. We love volunteers leaving behind a memory; a painting. a song, a story or a smile ingrained in our memories.
• What jobs do you have in store for volunteers?
The main purpose of having volunteers is to enhance guests holidays whist giving themselves a wonderful time/experience too. Quite simply volunteers are here to keep the property presentable. Room changes, bar cleanliness, meal table prep, dog walking and to always have a smile.
• In exchange for work, what do you offer volunteers?
We provide volunteers with a bedroom, use of the swimming pool, jacuzzi and bar! (yes the bar is free to volunteers too), plus 3 amazing meals each day. Volunteers eat the same food as guests and they sit at the same table to enjoy conversation and wine by the pool. The surroundings are amazing with cites such as Malaga, Ronda a short distance away and the 'Caminito del Rey' (Kings Walk Way) which is 20 mins away by car. One of the most amazing walks in the world!
• Are you currently looking for volunteers?
We are always on the lookout for great volunteers with a 'can do' attitude and a big social appetite with smiles.
Thank you Andy!
A huge thanks to Andy for participating in our Host of the Month! If you enjoyed reading about his project and are interested in volunteering, visit his profile directly here.