Teeny Tiny Shed to Giant Worktop
November 5, 2017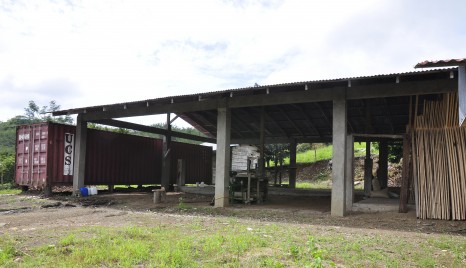 On arrival at the finca we unlocked the toy cupboard aka the bodega, for all intents and purposes our office. It was dark, creepy and inhabited by a huge lizard (nick named Eddie Lizzard), which I'm pretty sure has been around since the dinosaurs. There were a few spades, some chemical spray packs that look like something from ghostbusters, a whole barrel full of beans and no exaggeration, 25000 machetes. Needless to say it wasn't exactly the construction gold mine we had expected, having been told that there was a very long list of construction jobs to be done. So we headed out to the local ferreterias and the supermercado in nearby Hojancha to stock up on the essential. A couple of online orders were made, a bulk buy of screws and nails here and there and we were ready for action. However it appears that we have already out lived our little bodega at the house and are ready for bigger and better things.
After receiving an order power tools, including a circular saw, an electric planer a sander and a vice I couldn't even move, we then got a trailer, a Jeep, and a tractor!!! There definitely isn't room for all of this at our casa so where do we put it all?? We need a bigger shed we said, 3 days later a rumble in the distance signified the delivery of our new bodega, a 40 foot container on the back of a very large truck followed by a tractor. Ok this is more like it, this is progress, we like this very much. We had cleared out the old wood storage unit, the Galleron, moved many, many cut up tree stumps, abandoned projects, bags of fertilizer and cleared out lots of old corrugated iron – rehoming a few unhappy frogs along the way.
Moving Day
Moving day came along and to the galleron we went, down the hill, past Alizee and Rachel and off towards the teak that truck and tractor thundered. A few hours later and we have a galleron for a work-shop, a giant tool shed, somewhere to park the trailer and more potential than you can shake a stick at. All we have to do now is move all of our tools and organize the shelves, its like an organizationalist dream.
Next up at the galleron a green house, and it will be very green, as we don't suffer with a lack of heat or sunlight here as we do in the UK we have to use some green "shade netting" so more of a shade house than a green house, but you get my meaning. At the minute the green house is just two benches and a stick holding up the roof and as many plants as we can squeeze under there. At the minute this will have to do as our other container, containing our greenhouse frame is on its way from Miami.
Until next time, from the mighty movers…pura vida