VOLUNTEERING DURING COVID-19
April 9, 2020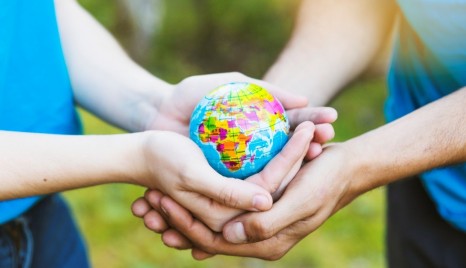 We are experiencing a crisis that no one has experienced before and we do not know what to do because what is happening feels out of our control. It is clear that this situation requires us to change certain habits. But beyond that, it is important to stay calm, positive and optimistic, follow the recommendations of the WHO or official organisations in your country or the country where you are.
Your plans were probably cancelled or paused and that's the most normal thing that can happen now. You are not alone! In any case, Hovos will always be willing to collaborate in any way. If you have any questions or doubts you want to ask us, we are very happy to answer and very welcome to collaborate with us.
This will pass and what we have to do is support each other and together we will get out of this situation. For that we need to take care of ourselves and take care of each other. During these moments we need to be especially supportive and kind to one another. Be attentive, altruistic and think of others in every decision you make.
Tips and suggestions for this period
If you are at home, go out as little as you can, only when it is necessary. You can read the Hovos blog, think about new trips, get inspiration from other travellers, watch videos, study a language, read a book, watch a movie or documentary, learn a new recipe, do yoga, meditate, talk to friends through video calls, play with your pets. If you have garden, take care of the plants, plant a tree. Be helpful and nice with nature.

If you are travelling, follow the official recommendations of the country where you are. Try to move as little as possible. Pay attention only to official information, that is to say, government organisations, especially restrictions on entering or leaving the territory and possible changes in travel-related policies. But we do not recommend you spend all day watching television or news because that can cause fear and panic. The media wants to sell, attract listeners, viewers and in some cases, they provoke fear to control the audience and sometimes they give wrong information. We also would advise that you not spend all day on social media sending messages on this topic.
If you confirmed any volunteering, contact the host to let them know that you will show up anyway, if you are in the same country or near; but if you do not plan to travel, remember to cancel your trip on the Hovos platform and notify them in advance.
Take care of the people around you, also you can encourage them to follow the official WHO recommendations to avoid COVID-19. Reinforce precautions and communicate their significance. It is important, as a preventive measure, to wash your hands after being in contact with any surface. It is important to respect, be careful and empathetic. Take care of your health and take all necessary precautions to avoid spreading the virus further. It is the only way to contain it. Together we can do it.
What are we doing now?
We want you to have full confidence that at Hovos,
we are doing our best to take care of our community of travellers and hosts
. We value the quality of experiences and the safety of everyone.
At Hovos, we will share entertaining traveller stories, experiences and tips on our travel blog, with relevant information that will help you while you travel. It will be created by travellers like you, who will show you, among other things, how to lose your fear, how to earn money travelling and give tips to get the most out of your volunteering experience. Get inspired by the stories of our travellers.
So you know, the best thing to do now is to be positive. If we are responsible, this will end and the more willing we are to face it in the best possible way, the more we will bear it.
From Hovos we wish you good energy, good times, stay safe, stay at home and remember weare always there for you.