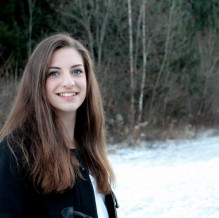 Volunteer since
2016
Speaks
English, German, Italian, Serbian
I speak German, English and Serbian fluent. My Italian is not so good but i can understand everything.
About me
My name is Aleksandra and I´m 19 years old.
I am from Austria and finished a tourism school in June.
I started travelling some years ago and found my passion.
My hobbies are every types of boardsport like surfing, snowboarding or even skateboarding. I also like hiking and climbing. I want to collect experience and work with a nice team.
I am ready to work in every sector like cooking, cleaning, waitressing or something else. Oh and I´m also computer literate if needed.

Preferred location
I traveled through Asia for three months. I just fell l in love with the ocean, the nature and the friendly people over there.
Skills
I finished a tourism school in Austria.
I can speak German, English, Serbian and Italian.
I have already worked in different restaurants, hotels and bars in Europe.
Additional info
I am not a smoker, I have a drivers license, I am not a vegetarian and I have no allergies.