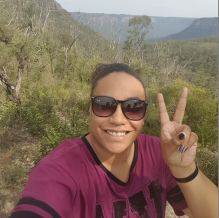 Volunteer since
2016
Speaks
English
I can't speak any other language but I can manage to communicate with other cultures and different languages.
About me
I come from a tiny island called Tonga in the Pacific known as the friendly islands. I work for a Domestic airline called Real Tonga. My hobbies are listening to music and dancing and also playing sports. I'm an honest person and trustworthy as well. I'm a talkative person and like to make new friends all the time and I'm friendly. Most of my friends tell me I am an entertainer I always put a smile on their face or make them laugh.
Preferred location
Places I've chosen are places that I dreamt travelling but only two places been there before one was when I was younger which was USA. I would like to travel and do volunteer work for these places I have selected like in Australia help out the Indigenous people and also USA live in. And rest that are selected with anything as in cleaning helping the poor or helping out at a farm it would be a good experience for me learn new things and new culture.
Skills
I work for a domestic airline in Tonga is where I'm from. I have people skills and speak good English. I like to travel and help people but just don't have the money. I'm more likely a people's person I can get along quickly with people. I can help out cleaning and I'm a fast learner. Also care taking and charity work and etc , like I said I'm a people's person.
Additional info
I am a smoker, I have a drivers license, I am not a vegetarian and I have no allergies.
I don't smoke that much but I can live without it.