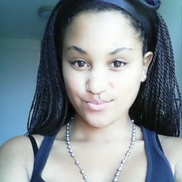 Volunteer since
2015
Speaks
English
I understand a bit of French and a bit of Afrikaans. Still working on understanding both these languages better.
Last seen online
3 Years ago
About me
I'm a very hard working young lady and I enjoyenjoy reading. I'm currently doing my second year at the university of Pretoria. I'm always willing to learn something new and I'm interested in how other people live and their customs etc. I come from a very humble home where I was taught from a young age to always believe in God. I'm hungry for succcesee and I would love to travel around the world.
Preferred location
I would like to volunteer around South Africa because I'm still studying but it would be great to travel around the world and volunteer in other places.
Skills
I'm studying geology and I would like to do something related to my field. I'm very handy around the house and working with children. I'm always willing to learn something new.
Additional info
I am not a smoker, don't have a drivers license, I am not a vegetarian and I have no allergies.