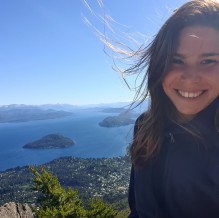 Volunteer since
2019
Speaks
English, Hebrew
I speak know how to read in English, write less well. Understands a little spanish and speaks very little but would love to practice and learn more. Hebrew speaking partner knows how to read and write.
Current location
Argentina
About me
I am 22 years old, when I was a teenager I had a dance hobby and still to today I liked to dance. I instructed in "Bnei Hamoshavim" movement and was a commander in the IDF. I love nature, travelling, animals, children and learning history
Preferred location
I have been traveling in South America for about six months, I want to help and learn from people I will meet along the way
Skills
My best skill is hard working, persistence and have high disciplin. I love to work with peoples, animals and also likes to do ground work. Special skill that I have is that I am very organized and capable to instruct .
Additional info
I am a smoker, I have a drivers license, I am not a vegetarian and I have no allergies.
I smoke, but can live without it. Don't eat milk but not allergic.