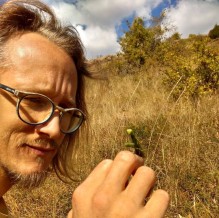 Volunteer since
2019
Speaks
Croatian, English, German, Italian, Serbian, Slovenian
At German and Italian I know just basics and can't write Serbian.
About me
I am calm, but can be fiery;
diligent & creative. I can be alone or social. I love nature & cosmos. Children and animals love me.
Preferred location
For now mostly in Slovenia, but also around or probably than Bolgaria, even Iran.
Skills
I've got physical degree as teacher of yoga & unphysical 1 as shaumbra (pioneer, guider & inspirer of counsciousness). I am certicated also at Access Bars - Acccess Counsciousness (R) and as ecological farmer. I am inventor, world server, ultra-gardener and blog-poet.
So, I can be a spiritual teacher, healer, artistic fighter. I produce diverse kinds of home products, from crops to home enzyme, compost tea, char-coal etc.
Additional info
I am not a smoker, I have a drivers license, I am a vegetarian and I have allergies.
I am allergic to lactosis, but some time consume cheese, yoghurt, goat milk; and home eggs.
Payment verified
Fast response
Review received
Experienced
Email verified
Passport verified
Phone verified