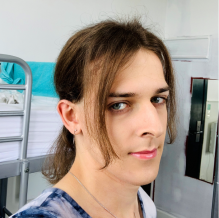 Volunteer since
2019
Speaks
English, German
I am fluent in both english and german. German being my native language and I learned english during my school exchange in Canada.
About me
Hello there!
I'm Lilli, a 22 year old transgender woman.
Possibly one of my biggest interests are theme parks/rollercoasters. It's what got me into studying engineering and I love the combination of technology and storytelling that can transport you into another world.
I also love playing music, mainly the piano.
I also work hard towards my goals and always look for ways of improving even the smallest of processes.
Preferred location
I am travelling through New Zealand on a working holiday and if anyone needs some additional hands to do some work, please contact me.
Skills
I have studied mechanical engineering in Germany and am fluent in german and english. Therefor I am good with anything technical or computer related, but I can also provide basic help in garden and house.
Additional info
I am not a smoker, don't have a drivers license, I am not a vegetarian and I have allergies.
I am highly allergic to cats and dogs.