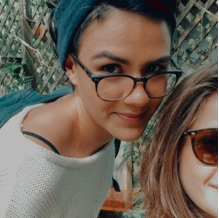 Volunteer since
2019
Speaks
English, Portuguese
I unsderstand a litle of spanish
Current location
Brazil
About me
I have studied civil engineering but after graduated I started traveling and changed my focus in study how to live in harmony with nature an the self. I studied constructions with bamboo, permaculture, astrology and human design. I have done volunteering work before and i think it is a amazing oportunity to learn, share and create incredible things.
Preferred location
I'm planning a trip to chile in the first semester of 2020
Skills
I have studied civil engineering and dedicated my studies in eco constructions. Im interested in permaculture and hamonious co existence with nature. I also study astrology and human design, i like to study human behaivour and society. I had some exeperiences of volunteering in hostels and eco lodges in Brazil. I speeak portuguese and english ans look foward to learn spanish.
Additional info
I am not a smoker, I have a drivers license, I am not a vegetarian and I have no allergies.
I try to eat the least amount of meat but I am not strict.