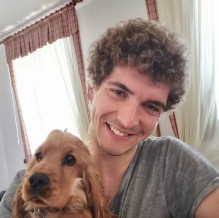 Volunteer since
2019
Speaks
English, Italian
I also speak Spanish but only with a medium school level.
Current location
Italy
About me
I am a 22 year old boy, I come from Bologna, a city in Italy. I am a sunny person and I like being in a group with people and I have chosen for 2019 to spend a month in California to improve my English pronunciation. I do motocross and I love whatever has wheels. I also swim and cycle.
Preferred location
I will be in California from September 11th to early October. I will be 10 days in Los Angeles and then move to San Diego for the last 15 days.
Skills
I studied mechanics and electronics at high school and worked since I left school as a mechanic so far.
I'm interested in trying any kind of job because I'm a curious person and I'm interested in new experiences.
Additional info
I am not a smoker, I have a drivers license, I am not a vegetarian and I have no allergies.