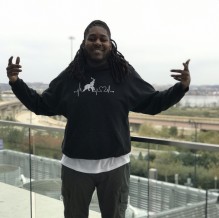 Volunteer since
2019
Speaks
English
Spanish is not a language I speak but the ability to understand what is being said.
Current location
USA
About me
Im an outgoing loving guy. Mean no harm to anyone, would just love it if we as a human race could all come together. ❤️
Preferred location
I would admire traveling through many of countries listed and also I am interested in making stops that are not listed. It would be n honor to come to assist you if I may. My goal is to have true experiences with life and as many people the world offers.
Skills
I have practiced basic computer skills, communication skills, customer service training and development. I love working with people. I grew up working maintenance with my father; painting, plumbing, construction, building, repairing and any other of your basic mechanical work, including vehicles. I also transport, delivery, along with car hopping (taxi/cab).
Additional info
I am not a smoker, I have a drivers license, I am not a vegetarian and I have no allergies.