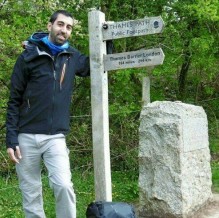 Volunteer since
2019
Speaks
English, Italian
Fluent in English and Italian, I can put a couple of words together in French and Spanish as well. Quick learner, but I doubt the stay will be long enough for me to master a new language :)
About me
City born and bred, I started finding myself more in the outdoors, hiking and camping, and decided to leave the desk job to travel the world and help where needed.
This is a huge change for me and I cannot wait to see where it leads me, but I'm confident I'll discover a new side to life, one of work for a purpouse and contact with the world, away from the concrete jungle.
Preferred location
I am setting off to travel and volunteer (around the world ideally!) in summer 2019, and looking for volunteering opportunities in the UK (I'm thinking summer in the Shetland Islands, then maybe Skye or Wales, but really flexible), home for the past 7 years, before setting off to travel further away (SE Asia in 2020).
Skills
Italian born, structural engineer by trade, cooking skills in my blood (though not investigated much yet). This (August 2019) is my first go at being a helper, although I have previously worked as a waiter, helped in a charity shop, assisted in hostel events and lead hikes.
What I lack in gardening or construction skills I make for fast learning and eagerness to help. If you can show me what and how, I can do it.
Additional info
I am not a smoker, I have a drivers license, I am not a vegetarian and I have no allergies.
Really just lactose intolerant, but find my ways around it.