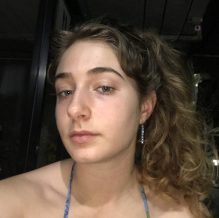 Volunteer since
2019
Speaks
English, Spanish, French
I speak these 3 languages perfectly french is my native language my english is perfect and im loosing my spanish a little bit since i dont use it in my country
About me
Im 21 years old
i work im the summer in montreal in a kitchen to save up for trips in the winter
last year i went to south america
i travel alone
i love to draw paint and write
im very drawn to learning every detail about ones culture and religion
iminterested by symbolism, philosophy, anthropology and psychology
im going to study psychology in university in the fall
im not scared of trying new things!

Preferred location
Hi! my name is marie and im looking to find experiences outof the ordinary
i love to work and be part of a project that inspires me. mainly i feel at home when gardening or taking care of animals or whatever near nature!
i speak french, spanish and english and open to learn many other languages
i reside in montreal where i was working in a kitchen
in my free time i love writing and drawing
i studied visual arts after highschool
Skills
I have studied visual arts
i have worked in a kitchen
i have worked in orchards picking fruits and maintaining trees
i have experience with gardening
i speak french english and spanish fluently

Additional info
I am a smoker, I have a drivers license, I am not a vegetarian and I have no allergies.
Payment verified
Fast response
Review received
Experienced
Email verified
Passport verified
Phone verified