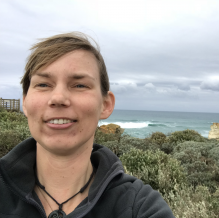 Volunteer since
2018
Speaks
English, Russian
I understand very basic conversational Russian, though I speak even less of it. With practice, I'm sure I'd get better, as I used to be fairly fluent when I was very young.
About me
Hi! I'm Nadya. I've had a few different careers over the years. I'm a qualified baker/pastry cook, and I completed my schooling in the United States back in 2008. I worked in that industry for 5 or 6 years until I developed a mild wheat allergy. I've worked as a server/bartender at a couple of UK pubs. Recently, I installed telecommunications cables. I got pretty good at using power tools. I also grew up on a 20 acre farm, taking care of cows, sheep, chickens, and a horse, as well as a kitchen garden. So I enjoy being physically active, and I would love to volunteer at a farm. Right now I pick up a bit of freelance writing work, run a travel blog, and I'm writing my own project.
Preferred location
I'm starting out in New Zealand, and heading to the States after that. I'm absolutely open and willing to try different areas that aren't listed. This is just me throwing ideas out there.
Skills
I've studied baking, structured cabling, working at heights and in manholes. I can use power tools, run cables, work with animals and garden.
Additional info
I am not a smoker, I have a drivers license, I am not a vegetarian and I have allergies.
I have a wheat and shellfish allergy. I eat halal for personal reasons