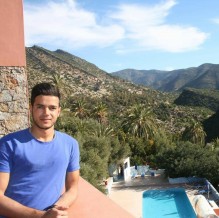 Volunteer since
2018
Speaks
Arabic, German, English, French
French-bien English-fluent German-gut Arabic- good Tamazight-good
Last seen online
9 Months ago
About me
Hi!
i love kids, I love sports and Music that's why i write and sing.
hiking and swiming in the open water makes me feel the freedom i want all people to feel it as they see it in their own imagination.
Helping others to get out of their fears makes me happy, because i know how if feels and i don't like it too.

Preferred location
Hi!
My Name is Youness, I'm from Morocco and I have 9 years experience in the field of cultural exchange and bringing people together through different programs. I like learning languages, so far I speak French, German , Arabic, Tamazight, and English which I consider as my backup.
Through my work with international organizations I have met a lot of people from other countries and I did my best to help then learn about the Moroccan culture and diversity. Now I wish I can do to same and travel abroad to meet people in their homeland too, learn and change my perspectives.
I'm really good at teaching some languages. I love sports, I like to swim, go out doors and take care of my physical health as I really like to see people do the same.
I really love to help others as much as I can, because it makes me feel happy. I also like to work with people who have special needs.
Thanks for reading,
Youness
Skills
Good at learning languages
Helping people with special needs
Fitness Coaching / Swimming, physical strength
Elderly care

Additional info
I am not a smoker, I have a drivers license, I am not a vegetarian and I have no allergies.