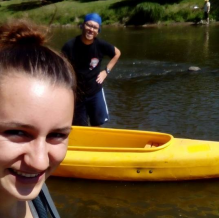 Volunteer since
2018
Speaks
Czech, English, Slovak
I speak and uderstand English, but it isn´t perfect :-)
About me
I have a dog with my husband, and I love animals since my childhood.
My sister has two 3-years-old boys and sometimes I take care of them. I love them so much


My father is a big handy man, he does everything around his house on his own and sometimes I help him with it.
From university I have got skills in farming and gardening.
My favourite part-time jobs were guiding tourists on a castle (Kost) since I was 16 years old and my barist job in a Prague coffee.
I love sports like slack-line, canoying and hiking. I love surfig and windsurfing with my father as well. I like dancing, swimming and almost every sport except climbing and diving


I think I can learn pretty much everything very quickly, if people are kind and patient to me

Preferred location
I am traweller who want to try something new help with some work. I just need an acommodation and food in exchange.
I can come on one month in August.
I am interested in farming, gardening, surfing,
Skills
Since i was a child I did canoying. I studied chemical high school (brewing beer and wine production). Than I studied unversity of agriculture. One year I worked on reception. Now I am in big corporate, where I use mainly computer - Excel, internet and special programs. Because I´m interested in coffee I did barista course.

Additional info
I am not a smoker, I have a drivers license, I am not a vegetarian and I have no allergies.
I have driving license, but I´m not sure with driving a car.
Payment verified
Fast response
Passport verified
Review received
Experienced
Email verified
Phone verified