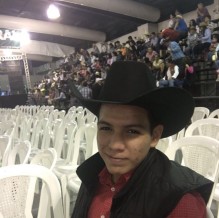 Volunteer since
2018
Speaks
English, Spanish
I speak spanish, and a very decent English. Lookinf forward to speak french.
About me
I am a very proactive guy, that always wants to know something new. I like to help others. I like new adventures and to do things I hadn't do before. Grown in the city, but I love big green areas where I can be connected with nature. I learn things very fast.
Preferred location
I will travel to New Zealand, a calm place where I can find my own me. Is an experience I want a long time ago and make it happen will be the best thing ever.
Skills
I have worked in solar projects, I worked installing solar systems. Also I was volunteer in a zoo. When I was in high school I helped a little school in a poor comunity near Guatemala City, now I am studying engineer in Monterrey, N.L., Mexico.
Additional info
I am not a smoker, I have a drivers license, I am not a vegetarian and I have allergies.
I eat almost everything. I have allergies like to an extreme weather changes, but I can live with it. When I was a kid I used to have asma.