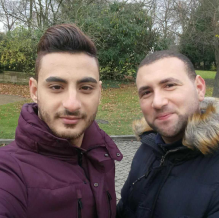 Volunteer since
2018
Speaks
English, Spanish, French
We bothspeak and understand Frenchand English fluently. But l can speak and understand basic Spanish as well
About me
We are ambitious two Guys, we know each other for 12 years. We are more than brothers, smart fun and could help with everything without open heart. We are lovers of life, optimistic, and see the half full of the glass. Both of us we had several volunteering experiences in our country which developped our social skills .
Preferred location
We are two Engineers from Tunisia Lovers of traveling and getting to know new cultures. We are searching for our place in this world.
Skills
L am an Electromechanical engineer and my friend Yassine is a Financial engineer, we are both proactive learners, we enjoy live, we can help in different tasks as we are solution oriented and we always figure out a way to solve problems.
We had different experiences in fixing stuff, personal development, taking care of kids, cleaning, cooking etc as we are living abroad by ourselves since a while which led us to learn those skills.
Additional info
I am not a smoker, I have a drivers license, I am not a vegetarian and I have no allergies.
We sometimes smoke shisha, but we are not addicted to it. and in usual while traveling we don't bring it with us.