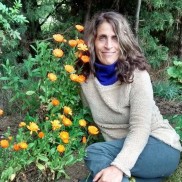 Volunteer since
2015
Speaks
English
I also understand a little Italian and Spanish, but dont really speak it well.
About me
I was raised in Cincinnati, Ohio and am part of a large Italian family. Im number 10 of 12 children. Ive always been surrounded by loved ones that supported and encouraged my interests. When life becomes challenging, I try and look at those times as opportunities to open myself up to different perspectives and see who I am when the chips are down. Im quick to rally from those experiences and move forward. I am an activist who believes passionately about the well-being of this planet and all living things that dwell here. I am a very proud mother with 3 grown children who are flourishing in the world and making it a better place. They are happy, healthy and loving individuals.................I couldnt ask for anything more than that. I was married and in a wonderful relationship for 27 years. Best thing I ever did. Im the person I am today because of it! My zest for life and travel has kept me young and free-spirited. I recently finished a 9 month trek across the U.S. (from L.A. to D.C.). It was an amazing experience and spurred me to continue onward in my travels. From there I moved to Austin, where I lived out of my van and worked my butt off to raise enough money to venture down to South America. I roamed that big, beautiful country for almost 2 months. Got back to my hometown in Michigan a few weeks ago and have been working tirelessly on refurbishing an old RV. My plan is to make my way west in the hopes of finding a place that I can rest my feet and establish a niche.
Preferred location
I will be traveling westward at the end of July and think volunteering is an excellent way to meet new people and visit an area. I have no agenda other than checking out the towns I come across and the local scene. Eventually, my hope is that I will find a place that suits me and make it my new home.
Skills
I would affectionately describe myself as a "jack-of-all-trades" and a master of none. I take pride in everything I do and ALWAYS do my best. Im not a procrastinator nor am I lazy. Im highly motivated and full of energy. If I dont know how to do something, I can be taught. I learn quickly and complete all tasks as efficiently and as thorough as I can.
Additional info
I am not a smoker, I have a drivers license, I am a vegetarian and I have no allergies.
In general, I dont have allergies. However, sometimes the changing of the season will bring about a mild allergic reaction. I am mostly a vegetarian, but I do eat fish (pescatarian). Occasionally, I will also eat chicken.