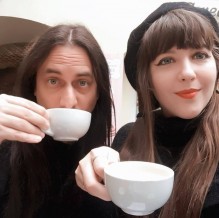 Volunteer since
2017
Speaks
English, Japanese, Chinese
Spanish, a bit of Japanese, enough Mandarin to get lost, and enough Korean to watch dramas.
Last seen online
9 Months ago
About me
We are a couple of seasoned travelers who are interested in making our way around Asia while making new friends and learning new skills. We both have had stable careers since college but are lucky enough to take a year off to learn more about other cultures and explore new cities. Samantha has a background in the service industry as well as computer programming (websites and marketing), Steve has a background in home construction and as a line cook for several years.
Preferred location
I'm spending the year of 2018-2019 traveling through Asia! If you're located anywhere within the continent I'm interested in opportunities!
Skills
Our skills: Cleaning, Construction/Home Improvement, Cooking, Website Development (Wordpress is a specialty, but Javascript and PHP also are fine), Marketing (Search Engine and Social Media), Teaching (Math, Science, English, and Philosophy), Gardening (but not succulents for some reason).
Additional info
I am not a smoker, don't have a drivers license, I am not a vegetarian and I have no allergies.
Payment verified
Fast response
Review received
Experienced
Email verified
Passport verified
Phone verified