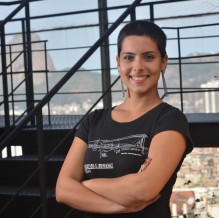 Volunteer since
2017
Speaks
English, Spanish, Italian, Portuguese
I speak fluent portuguese and english (conversational, not so much in writing skills), basic spanish (I can understand almost anything said but I dont have a vast vocabulary and need improvement) and an even more basic italian. I would love to improve my spanish and my italian, and also learn other languages, specially german or french.
Last seen online
5 Months ago
About me
I am a hardworking and affectionate person, who loves to travel and to get to know new places, cultures and people. I love nature and hiking but am also delighted with big cities and all the possibilites that comes with it. As I was always buzy, with college and work, I had to travel only for a few days every now and then. Now that I'm no longer at my job and have graduated I can finally fulfill this dream of traveling the world, but I need your help to do so. I'm interested to learn whatever you have to teach and to help in any way I'm able. Looking forward to have a great time with you !
Preferred location
I've been traveling and volunteering since March 2018. I intend to continue to do so throughout Europe at the very least during the rest of this year. So I'm open to pretty much anywhere and even countries I have not selected could interest me and I invite hosts to contact me if they believe I can help them out.
Skills
I'm a recently graduated architect and have worked with interior design for the past 2 years, so I would be able to help in that area. I'm also very artsy and love DIY, like to cook and am used to sew simple things. I'm not a photographer but I have a camera with me and love taking pictures. I make my own accessories and have a big garden in my house here in Brazil where my dad also have a kitchen garden and sometimes I help him around - am not afraid to get my hands dirty. I also have a workaway experience with gardening and animal care. I love children and am babysitter for my 8yo cousin since he was a baby.
Additional info
I am not a smoker, I have a drivers license, I am not a vegetarian and I have no allergies.
I do have drivers license but am not used to drive.