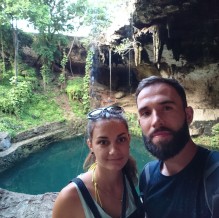 Volunteer since
2017
Speaks
English, Spanish, French, Italian
We are learning Spanish but we can communicate for basics and we understand it better than we speak it.
Last seen online
7 Months ago
About me
We are a french couple travelling Central America and South America since September 2017. Emmeline has travelled around Australia during one year and one month in Bali in 2016. I (Hervé) was in the United States during two months before arriving in Mexico, where Emmeline joined me in September of this year. We are very interested in doing some work during our travel because we want to travel for a long time, maybe until next summer (2018). It's a good way for us not to spend a lot of money, to have new experiences and in the same time to meet people who live in the country we are visiting.
We love nature, practicing sport, hang out with friends and have a laugh. We are an easy going couple, very respectful.
Preferred location
We are interested in working in South America because we'll are actually near of this region but we are also interested by other region in a future travel...
Skills
We love animals, we used to have some when we were not traveling. We like their presence and we always go to meet them when we see some.
Emmeline used to work with old people in retirement houses and I used to manage the administration in a housecare association for old people.
We both used to live on our own and to take care of our home, so we have skills about cleaning, gardening and other basic tasks.
However, we are interested to learn about construction and ecoprojects even though we don't really know about it.
Additional info
I am a smoker, I have a drivers license, I am not a vegetarian and I have no allergies.
Payment verified
Fast response
Review received
Experienced
Email verified
Passport verified
Phone verified