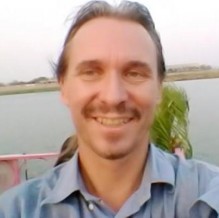 Volunteer since
2017
Speaks
German, English, Spanish, Portuguese
I speak german as first language, my english and portugues is`nt perfect but good enough for communicate fluently for daily used things, spanish i understand some basics but don´t speak it.
Last seen online
10 Months ago
About me
I AM OPENMINDED, EASYGOING, I LIKE
TO TRAVEL AND MEET NEW PEOPLE
My friends mean that I am gentle, calm, creative, spontaneous, funny and educated.
I growt up in Germany and usually I spend my time for working, gardening, internet, reading and writing, fitness gym and biking. Spirituality, Esoterik, Eco-architecture and interior design catch my high attention too.
I planing to explore Portugal from October 2017 to April 2018. On my journeys I like go know different countries and other cultures on a simple way. I like art and simple life like luxury and sometimes I go out for enjoy the life. Would like to meet new friends
I live life by spontanity. I have a wanderlust soul and traveling makes me feel ALIVE.
Sometimes I am serious other time I am funny and talkactive...
Generaly I am modest, sometimes a bit shy at first but after a while I am very Outgoing...
My goal and dream is to find some inspiration, interest business ideas which are well compatible with my personality.... seetle down in an mediterranean or tropical country with polite and happy citizen...
PHILOSOPHY
Nobody is perfect, so lets try our best for... and let us
Treat others like we want be treated.
The best way to feel good about yourself is to finish what you have started.
I am a calm and open minded person who is on a special journey. I try to find my real destination. (Maybe with meditation, hypnosis, spirituality, trance, yoga ...)
My misson:
I plan to explore the human spirit and soul… meet people who enjoy share experiences and knowledge about eco-achitecture, meditation and yoga, osteopathy, herbal and traditional Chinese medicine, natural healing, ayurveda, spiritual and transcendental experiences... nature and city lover


Would be a pleasure to share nice moments, food, drinks and fun.


Sometimes I like to go out from the comfort zone and discover the unknown, explore and change bad programs of our subconscious, enjoy nightlife of a city and unknow places, amazing overviews, and great new comfort zones
ups, I m a crazy dreamer?
I want to be closer to the nature, people, universe and acting in a honest and pure way.
Interessen
Travel, Interior Design Design, Architecture, Furniture, Lighting, meditation, psychology, hypnosis, different lifestyles...
Usually I spend time for gym, gardening, internet, reading and writing... chats...
Preferred location
I just travel trough Portugal from north to the south just think about go to Asia or Latinamerica again. Is depends where i will feel the best flow to go, so just let me know more about your project and when it catch my attention... who know...
Skills
I have diploms as optician & carpenter, but after finish this education I worked in different areas like taxidriver, marketing, organize events in Brasil and Germany, matchmaking, orgenanize and delivery of donations for victims of taiphoons in Philippines, as manager in bar and bistro... and i am everytime ready to learn something new...
I speak german, english and portugues....
Additional info
I am not a smoker, I have a drivers license, I am not a vegetarian and I have allergies.
Sometimes i smoke after a good meal and a nice beer, got allergies throug some german flowers and animals.