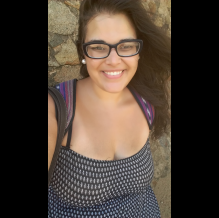 Volunteer since
2017
Speaks
English, Spanish, French, Italian
Hablo inglés a la perfección, un poquito de francés y comprendo el italiano
Last seen online
10 Months ago
About me
Soy graduada de la Universidad Nacional del Sur, en Química. Gracias a mis estudios tuve la oportunidad de irme becada a México y ahí nació mi pasión por los viajes. Me encanta conocer gente de todas las culturas, aprender idiomas y fascinarme con este mundo maravilloso.
Soy una persona culta, responsable, muy amigable y con buen humor.
Hablo ingles a la perfección, hago un poco de música y sonrio todos los días.
Preferred location
Hola, soy Belén de Argentina y este verano tengo muchas ganas de trabajar como Voluntaria, soy una persona muy inteligente, amigable, excelente cocinera (Anímense a probar mis pizzas amasadas), tengo muy bien humor y me encanta cantar con mi guitarra.
Manejo el idioma Inglés a la excelencia y también un poquito de francés.
Si buscas a alguien con muchas ganas, responsabilidad y honestidad. .. acá estoy
Skills
Soy docente, por eso tengo mucha paciencia. Estudié también Inglés, lo hablo muy bien pero lo cantó mejor, y si es con una guitarra mucho más lindo.
Me gusta cocinar y me manejo muy bien en el mundo cibernetico.
Si algo no se hacerlo lo puedo aprender, con voluntad, muchas ganas y buen humor todo se logra

Additional info
I am not a smoker, don't have a drivers license, I am not a vegetarian and I have no allergies.
Muy sana