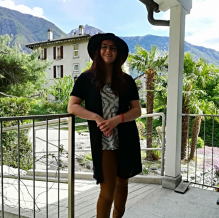 Volunteer since
2017
Speaks
English, Italian
I understand almost everything in English, but I speak little
About me
I am very happy, I love nature and always live new experiences with my friends. I like music, animals, reading and playing volleyball. I am very curious in general, I like to discover New cultures, new countries ..
Preferred location
I would like to be able to improve my English, so I would like to go to the united kingdom, in Ireland, but also in Iceland or South Africa. My limit is My age , so I do not know where I can get it. My parents are in favor of making me experience such a special experience
Skills
I am very sociable, helpful, generous, nice, so I like to be with people, with children and I love animals. I have dogs, , Cats, hens and rabbits in family. I have had various experiences as an animator with children between 6 and 12 years. I'm very versatile for any type of job.
Additional info
I am not a smoker, don't have a drivers license, I am a vegetarian and I have no allergies.