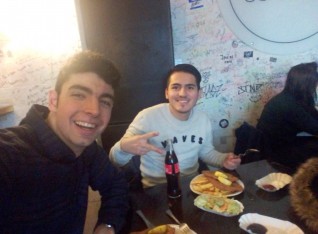 Volunteer since
2017
Speaks
Catalan, English, Spanish
I can understand quite good Italian, as I speak Catalan is so much easier that if you only speak Spanish.
About me
I'm studying audiovisual systems engineering in UPF in Barcelona. And yes, I feel Catalan because I'm from Catalonia. As I said, I like hiking and go biking because I love being in contact with nature. Other things what I an interested with are tecnology, such as TV's, multi-touch screens, radios, signal processing systems and also with areonautics. I'm kind of curious and fascinated about how airplanes can fly and how they work, as well as all the secutity systems and how engines work and how big they are.
Preferred location
I live in Barcelona and for me is quite easy to take a flight almost everywere in Europe. I'm interested in hovos in Europe, as I don't want to go further right now. I could go to the middle east or Dubai, but not further.
Skills
I've been doing for 4 years workcamps all around Europe, as I've been in Germany, Poland and Finland doing voluntary works. Some tasks I developed were painting walls of a warehouse or fences in the forestand I also removed trunks and brushes there, as well as taking care of plants in the forester's hut.
Apart from all of that, I also like go biking or hiking in mountains. I climbed some mountains in my country like Pedraforca or La Pica d'Estats. As you can see I'm kind of nature lover, so the kind of tasks I could do should be related with that or with the studies I'm doing, as I also like how TV's, radios or sound mixers work, so everything related with tecnology I can say I feel quite safe talking about it.
Additional info
I am not a smoker, don't have a drivers license, I am not a vegetarian and I have allergies.
Allergic to peach