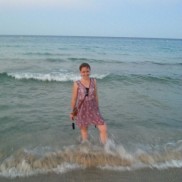 Volunteer since
2015
Speaks
English, German, Spanish
My english is very well. I speak a little bit spanish. I have learned it on the universitiy and i want to improve it.
About me
I'm studying social work before I did an apprenticeship as an educator . Nevertheless, it is not essential that you have children . I love animals and I like to help in the household . I speak a little Spanish , English and German . But I would like to improve my Spanish language skills .
Preferred location
I will travel to Spain, because it´s a beautiful country and i want to see more of them. And i want to improve my language skills.
Skills
I love animals and also like to help farming, help in the house is no problem for me, i like cooking and cleaning and also like to help in a hostel for example.
Additional info
I am not a smoker, I have a drivers license, I am not a vegetarian and I have no allergies.
I´m no vegetarian but i don´t eat so much of meat. I have allergies, but only for sweets and a little of fruits.