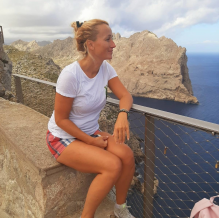 Volunteer since
2017
Speaks
English, German, Serbian
English very well C level, German A level and Serbian is my mother tongue.
Current location
Serbia
About me
Hi, I am 44, working as a teacher in the kindergarten.
Am pedantic, well organised, self motivated and hard working.
Have a 17 year old daughter.
I adore sea and spending my summers on the island.

Preferred location
Malta, Gozo, Sardegna
Skills
Am graduated teacher and sales manager.
Have a lot of experience in sale, but I prefer to be out of the market and live for a day, the way I am choosing.
Am positive, hard working, love details, beauty, nature and people.

Additional info
I am not a smoker, I have a drivers license, I am not a vegetarian and I have no allergies.