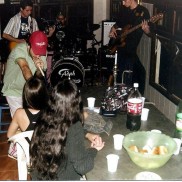 Volunteer since
2015
Speaks
English, Portuguese
I've been studying english for 5 years, I can communicate perfectly.
About me
I was father in my early twenties, and this fact has deeply changed my life. Giving a good education to my daughter, giving good examples is the purpose of my life. I enjoy music, nature, and I appreciate simplicity.
Preferred location
I'm want to work in Brazil as an English teacher, but my knowledge is limited, I'd like to improve it to get better jobs.
Skills
I've been teaching English since last year, but living in a country where I don't practise it, it's hard to improve it, but I've got a good level of English, I live in the country side, so I have a basic knowledge of dealing with gardening, carpentry,I live with my daugther, so know how to cook, clean the house. My main job is to sell hot dog in my town, I have a successful hot dog stand since 2007.
Additional info
I am not a smoker, I have a drivers license, I am not a vegetarian and I have no allergies.